Here's what we do in entertainment news when we get word someone famous dies: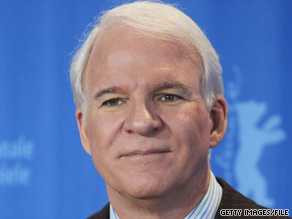 1) Put out calls and e-mails to confirm what we are hearing
2) Gather all the related video and information about how they died and their body of work
3) Put out calls and e-mails to the publicists of those also-famous folks who may have known or have worked with the person who has died, to sort of put the reporting in larger perspective.
Usually, the publicist will return our official request with a short "statement" from the celebrity they represent. We get the star's words as filtered through the media handler.
About an hour ago, the publicist for Steve Martin wanted to know if it would be alright if Steve called me personally to reply to my inquiry and share his recollections and thoughts. Now, I realize he wasn't calling ME - Rachel - he was calling CNN, but suddenly don't I feel special? "Steve Martin will be calling me himself!", I bragged to my colleagues. "See if he'll play the banjo for you," someone said.
Then, came the call (number was blocked from caller ID of course), and I realized I was talking to a guy, who was rather shocked and saddened to hear that someone he really personally respected had passed on. At CNN we're not only often the first to break the news on air, but sometimes we're breaking news to those you wish you didn't have to tell - famous and not.
I think Steve called personally because he wanted to know what I knew, or what CNN knew, about John Hughes' death.
Here's what he shared with me and what we're reporting:
"He was such a great writer who created so many enduring characters for film, both as a director and a writer. His real gift was in creating these identifiable characters."
"The script for 'Planes, Trains, and Automobiles' was the best script I had ever read. When I asked John how long it took to write it, he said, 'I wrote it over the weekend'. The weekend. That shows you what he was able to do." (Martin says the script for "Planes, Trains and Automobiles" still holds as the best script he has ever read and only film on which they worked together)
"He was funny from the start. You know he began his career writing for 'National Lampoon'…. A piece called 'My Vagina'. Very funny. Right from the beginning. If you haven't read it, you should find it."
Thanks, Steve. I just read it. He's brilliant. Thanks for taking the time.