Wednesday night's episode of "So You Think You Can Dance" offered up plenty of surprises as the final four dancers performed for an audience of 3,000 in Hollywood's Kodak Theatre, the biggest of which was the emergence of a dark horse as a real contender.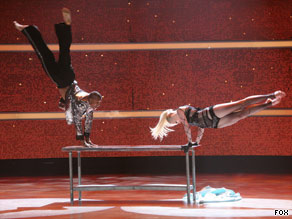 Here's a look at each of the remaining dancers and their chances of taking the big prize of "America's Favorite Dancer" Thursday night:
Brandon Bryant: He immediately became the front-runner after Janette was voted off two weeks ago, and hasn't missed a beat since. Last week's solo was probably his biggest moment so far, he did another exemplary solo this week and he was in two of the most memorable couples dances of the night: the extraordinary Broadway routine with Kayla and the smoking paso doble with Jeanine. Looking back on the season as a whole, there are just too many high points for him to count. Judge Mary Murphy warned him about his lack of confidence, and that may be the only thing standing between him and victory. Well, maybe not the only thing (see below)... Odds of winning: 3-to-2
Jeanine Mason: Not only did Jeanine seem to be a long shot to win this competition, she seemed unlikely to make the final four just two weeks ago. She has peaked at exactly the right time, delivering a pirouette-filled solo (in which she "tangoed" with herself) which had the judges and the audience on their feet. Solos always seemed to be her weakness but she really delivered this week. She held her own in the contemporary routine with Kayla, and continued to get high praise after dancing with Evan and Brandon. Of all of the dancers, she seems to "want it" the most this week. Odds of winning: 3-to-1
Evan Kasprzak: Well, this is the search for "America's Favorite Dancer," is it not? The judges acknowledged time and time again how popular and gosh-darn-likable the show's first Broadway dancer has been in his time on the show. But they made it very clear that he was far from their favorite to win. They were pretty harsh with Evan, and even his solo, which always wows them, was met with respectable comments at best. At one point, the thousands in the theater almost turned on the judges, chanting "Evan! Evan!" This certainly wasn't Evan's best night by any means, but don't count him out. Odds of winning: 2-to-1
Kayla Radomski: She finally came out of her shell tonight and gave us some personality, said executive producer Nigel Lythgoe. Of course, the dancers with a personality deficit have a history of coming in second, or worse, on this show ("Twitch" notwithstanding). There's no doubt that she gave it her all dancing to "Bye Bye Love" with Brandon, and just plain out-dancing Evan in the jive. But her solo didn't show off who she really is, according to Shankman, and that may have sealed "White Lightning's" fate. Odds of winning: 4-to-1
A few more observations:
– Kudos to Lythgoe for actually naming names when asked by host Cat Deeley who might win (Jeanine or Brandon), as opposed to his fellow judges.
– I'm not exactly sure what Wade Robson, creator of some of the most ingenious, yet twisted dances in the show's history, was thinking with that group routine, sorry. Are we sure that was actually a Robson routine? Just checking.
– Someone decided to overuse the spotlight in the Kodak Theatre and it was distracting. A little less of that during the live finale, okay?
– Does this mean we'll never get to see Mia Michaels choreographing Brandon (the group routine doesn't really count)? What a bummer.
Who are you pulling for in the finale?