The upcoming thriller, "A Perfect Getaway," starring Milla Jovovich, Steve Zahn, Kiele Sanchez, and Timothy Olyphant, centers on a honeymoon couple who face a multitude of dangers while on a remote hike in Hawaii. Oddly enough, the film wasn't shot there, but in Puerto Rico - and it was there that the film's two leading ladies encountered something in the wild that left their mark - bugs. I caught up with Sanchez and Jovovich at the movie's premiere at the Cinerama Dome in Hollywood tonight and they told me the island's insects did not taking a liking to them.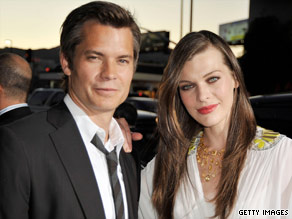 Timothy Olyphant and Milla Jovovich attend the premiere of "A Perfect Getaway" on August 5.
"I did get attacked by something," Sanchez says. "The dermatologist came and I was covered in bites, so much so that they had to cover me in make-up every day. The dermatologist said it was –whatever the Spanish equivalent of this is - "gringa disease. " She laughed. "They were just basically making fun of me.  Oh yeah, put the cream on it, it'll be better. "
Jovovich had a similiar reaction while holding her baby daughter. "There was a point where I was holding my four month old daughter and I felt stings on my leg and I didn't understand what was happening until they really started stinging really hard and I looked down and saw that I was standing on a red ant hill. There were red ants all over me, stinging me and I started doing this crazy dance with my four month old daughter in my arms just trying to get away - and hold her so she doesn't fall. You do a film you think you're under control, but mother nature is."
For his part, Olyphant says shooting in the wild was a breeze. "It was not that demanding of a shoot," he says with a grin. "We might have been guilty of starting to drink early. There's the beach and the sun's going down and a little rum wouldn't hurt."
And Jovovich had the perfect calorie-conscious cocktail ready. It was her own tropical drink made with Splenda. She called it the "Mojita-vich" of course...