It's not often a producer on the entertainment news beat gets to cover his hometown football team, but when the Cincinnati Bengals were selected to appear on this season's "Hard Knocks" on HBO (premiering August 12), I pounced at the chance.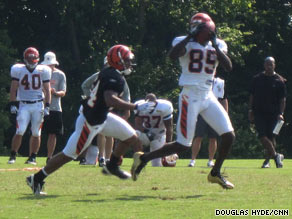 The reality series focuses on the training camp of an NFL team and chronicles the ups and downs of the players as they try to make the cut.  In all likelihood, this is the one time in my career that the Bengals will actually intersect with the world of entertainment.  So with microcassette recorder and camera in hand, I flew to Cincinnati on my own dime to conduct interviews with the team for a CNN.com piece that will appear next week.
After a visit with family and friends, I found myself at camp. The soldiers of the gridiron were already working out and stretching in the morning sun.  The HBO film crew was working away, getting their shots.  I chuckle as I hear defensive tackle Tank Johnson good-naturedly egging on the sole Caucasian in his position group during drills: "That's it white lightning! Way to go white lightning!'
I usually talk to actors and musicians and had never interviewed athletes in a setting like this. I didn't know what to expect. When my first interview subject came up, I found out in a hurry.
Larger than life wide receiver Chad Ocho Cinco greets me. He's struggling to get through a phalanx of autograph seekers.  I plant myself next to him, recorder at the ready. "You gotta walk with me, man," he instructs me.  We're walking a mile a minute through the practice field.  It's utter chaos. I get a few questions in, before the local media jumps in with theirs.
Thankfully, one of the Bengals PR men, PJ Combs, pulls him away from the bombardment and we continue our one-on-one interview walk.  I tell him I'm thinking of calling my article, "Inglorious Bengals," a play on "Inglorious Basterds," the World War II Quentin Tarrantino movie out this month.  "I like it," he says.
"Do you think that would be a fun persona for the Bengals to assume, one that would strike fear into the heart of your opponents?" I jokingly suggest.  "The title of an article is really not going to be the thing that does it," he replies, "Right now, we're going to have to go out there and earn our respect."  As this is going on, the HBO crew is filming us.  I had inadvertently become part of the story I was covering.
One of the players Bengals fans hope won't let them down is this year's second round draft pick, Rey Maualuga, out of USC.  "Hard Knocks" needs colorful characters to attract the casual viewer and  Maualuga certainly qualifies. I ask him bluntly if coming from a wildly successful program like USC to the Bengals is a "bummer."
"I don't see it as a bummer... We can only move up from here.  It's a good thing to come to a program that hasn't been doing too well for the past few years and try to help the team progress.  I think that's the whole point of 'Hard Knocks,' that a team that's been down for certain years, you know, what a way to come out this year and start out this year with this and show how this team can come together and bring something good to Cincinnati."
"Hard Knocks" debuts on HBO, Wednesday, August 12th.