It's a dark day in the history of "American Idol."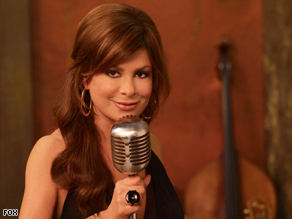 Right up until the bitter end I believed Paula Abdul and the producers would be able to work it out.
After all, there is no one else like Paula. Her special mix of kindness and kooky has left such an indelible mark on contemporary pop culture that whenever a new talent show appears, featuring a panel of judges, the inevitable question is asked: "Which one is the Simon and which one is the Paula?"
Paul's dizzy sweetness was the perfect foil for Simon Cowell's sometimes caustic criticism.
Sure, their juvenile antics could test fans' nerves on even a good day (the poking, the silly zingers and the time Simon drew on her face), but beneath the japes appeared to be a mutual respect for one another's career and their shared good fortune to have landed on television's most popular show.
Now word comes that Paula is out and Kara DioGuardi is the new, reigning chick on the block. No disrespect to the Grammy-nominated DioGuardi, but the only thing she seemed to share with Abdul was a sometimes tragic fashion sense.
Watching "American Idol" won't be the same without the chance to be treated to the uniquely Paula feedback to contestants like "You found the matrix of the song" or "I want to squish you, squeeze your head off and dangle you from my rear-view mirror."
I'm going to say it (and you can cue the groans): for this die-hard "Idol" fan, Paula is forever my girl.
So what do you think? Will you miss Paula on the show? Post your comments here or head over to iReport to upload a video response.