When I sat down to interview the cast of "G.I. Joe: The Rise of Cobra," of course I asked them about the film. But I was also interested in hearing about a red carpet they walked down a week before the film's U.S. release.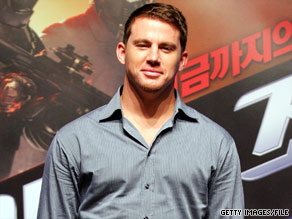 A premiere and screening of "G.I. Joe" had already taken place at Andrews Air force Base in Maryland. The cast was flown in to meet service men and women, their families, and wounded soldiers from Walter Reed Medical Center.
While the film itself is based on the legendary action figures and comic book characters, the idea of the iconic American soldier is truly what G. I. Joe symbolizes - the men and women who serve their country.
When I asked the actors about visiting Andrews Air Force Base, each one of them quieted down immediately. No explosions, no special effects, just their thoughts on real G.I. Joes. As for Channing Tatum who plays "Duke" in "G.I. Joe," he told me that during the trip to Andrews Air Force Base, there may have been a little too much pomp and circumstance. Perhaps a meeting with the men and women who sacrifice so much should be a more solemn event.
Tatum explained, "It was really strange we rode in on Humvees, and we're all pumped up, and everybody's yelling and then all of a sudden we met all the wounded warriors. I wish we wouldn't have met them in that atmosphere. I wish we could have had some time to actually hang out with them. But it really makes you sit back and say, 'Wow. I need to do more.' "
Marlon Wayans who plays "Ripcord" in the film told me, "We're playing heroes in 'G.I. Joe', but when you actually go down and you meet those guys and you see what a real hero is and you see the damage that a war can do, it makes you have a whole other appreciation for what those guys do."
Actress Sienna Miller who plays "The Baroness" said, "It was really humbling. Those guys are the real heroes, they were incredibly brave and you know, how grateful we are to have met them."
"It was an awe inspiring experience." Rachel Nichols added. She plays Scarlett in the film. "I mean we went to Andrews, they gave us a tour, it was just one of those things that we'll never forget. And we're really fortunate to be able to have done it."
What would you say to the American troops if you had the chance to meet them?