I was on my way to a press screening of "G.I. Joe: The Rise of Cobra."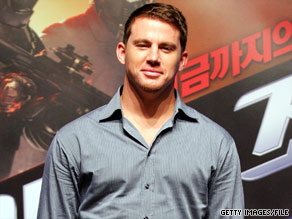 When I reached the multiplex on Manhattan's famed 42nd Street, I realized the dense and agitated crowd I was wading through was actually the line for the film. The line of people started at the theater doors and wrapped all the way around the block.
I was there to see the film in advance of my interviews with the cast. However, the hopefuls queueing up for what could potentially be a summer blockbuster had only a first-come, first-served shot at seeing the big-screen preview. Only 50 seats would be made available to the general public at the sneak preview, and still there was no guarantee they would actually see the movie.
I enjoy films, but not enough to stand in the New York City heat for more than an hour for the mere chance to see one. I mean, it opens in a few days. But maybe these fans wanted the glory of telling their friends: "I saw the new 'G.I. Joe' first."
Maybe they knew something about "G.I. Joe" that I didn't? Though there have been tons of ads, the studio has deliberately been stealthy with the film's advance screenings.
For myself, I thought this "Joe" had better be good. This "Joe" better pack a punch strong enough to make the box office weak in the knees.
I finished my popcorn before the opening titles even began. But it was for the best, because the action never stopped and I really had to focus on it - and star Channing Tatum.
While I cannot give away the details of the film, I will tell you this: It is a story of good and evil, an elite American military group and ruthless terrorists. It has high-tech weaponry and low-brow one liners. It has massive explosions and choreographed fight sequences.
Oh, and something bad happens to the Eiffel Tower. (If you've seen the commercials, you know what it is.) It's got more action than you can wave a machine gun at.
As for the lucky moviegoers who got to see it in advance? They cheered, they screamed, they laughed. I think they got their "Boom Boom Pow" from "G.I. Joe" and from the Black Eyed Peas as the credits rolled.
How about you? Will you go see "G.I. Joe: The Rise of Cobra" when it opens? Post a comment below or share your review at iReport.com.