Here's what's going on in the world of entertainment this morning:
Steven Spielberg's next film will be a new adaptation of the classic play, "Harvey," according to Variety. The first movie adaptation from 1950 starred Jimmy Stewart as a man who believes his best friend is a giant invisible rabbit.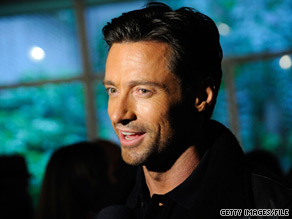 "24's" Mary Lynn Rajskub married personal trainer Matthew Rolph at Planet Hollywood Saturday in Las Vegas. The couple have a one-year-old son. Learn more here.
Variety reports that Hugh Jackman will play P.T. Barnum in the upcoming movie musical "Earth."
The producer of this year's Emmys, Don Mischer, as well as host Neil Patrick Harris, defended controversial changes to the telecast on Monday, such as cutting down the time for eight Emmy categories.
Don't expect Jay Leno's 10 p.m. show this fall to be a carbon copy of his "Tonight Show." For example, Leno tells TV Guide, "it doesn't look like we're gonna have a desk."
Variety reports that Rob Marshall is in talks to direct the fourth "Pirates of the Caribbean" movie, replacing Gore Verbisnki.
Thursday night's debut of "The Real Housewives of Atlanta" set a ratings record for the "Housewives" franchise, according to The Hollywood Reporter.
Taking a page from "The Dark Knight," there is a new "Iron Man 2" viral Web site, where you can "apply" to work for "Stark Industries."
Finally, it's "Shark Week" once again on the Discovery Channel, a big deal for some, but a mystery to others.
Out today on DVD: "Flight of the Conchords: The Complete Second Season," "Project Runway: The Complete Fifth Season," "Race to Witch Mountain" (also Blu-Ray), "The Soloist" (also Blu-Ray), and "The Tigger Movie: 10th Anniversary Edition."