Editor's Note: This post contains spoilers for the Sunday, August 2, episode of "True Blood."
Can anyone remember a show that dropped more cliffhangers on the viewer in the last couple of minutes than "True Blood" does?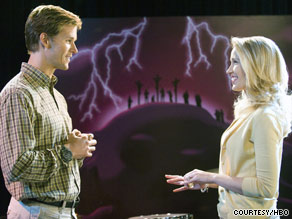 It's not like the first 50 minutes or so are devoid of action. But Sunday's episode, "Release Me," was a vintage example of the last-minute craziness – leaving a few characters dead, mostly dead, possibly dead or as good as dead right before the credits roll.
But which is it? As we saw in the first minutes of this week's episode, escape is always possible. [Of course, it helps if, like Sam, you have the ability to turn yourself into bird of prey and scram.]
So here, with no advance knowledge or insight, are some guesses as to who's really made their final blood donation and whose heart will keep beating to bleed another day. Worth noting that the series is ahead of my very limited reading of the Sookie Stackhouse novels and, as we've seen time and again, the makers of the TV series have strayed far from the books many times anyway.
Death candidate No. 1: Daphne
We learned a little about why Maryann might keep "Eggs" Benedict around and got a not-surprising look at how she treats friends who don't live up to her expectations. While Daphne's got the whole shape-shifting thing going for her, that knife in the gut looked pretty convincing and it's generally not good for your life expectancy to anger an immortal handmaiden of a Greek god.
Likelihood of death: 95 percent
Death candidate No. 2: Gabe
The Fellowship of the Sun goon would certainly be expendable - plenty more where he came from. And being snatched up by the ear by a 2,000-year-old vampire can't be a good thing. But is it really a coincidence that Godric showed up just in the nick of time? I still can't quite get my brain around how Eric's "scared little boys with Bibles and crossbows" could have captured a vampire so powerful. Maybe there's something more to his capture, maybe not. But I'll say the mystery gives ol' Gabe a fighting chance.
Likelihood of a well-deserved death: 50 percent
Death candidate No. 3: Jason Stackhouse
Love kills, Jason. And maybe so does a raging case of lust with the preacher's wife. Either way, Sarah Newlin blasts the dim-but-likable Jason with a Godzilla-sized pistol at the end of the episode. He was worried that his dalliance with Sarah would do him in. But, instead, he's blasted for something he didn't even do by the woman he was rolling around with just hours earlier. They've thrown us curve balls before, but it's hard to imagine the show's creators are going to snuff out a fan favorite like Jason.
Likelihood of a death that would break the hearts of half the show's viewers: 25 percent
Unrelated but happy note: HBO announced recently at Comic-Con that "True Blood" has been renewed for a third season.