Face-huggers, a killer creature with way too many teeth and, of course, the chest-bursting scene.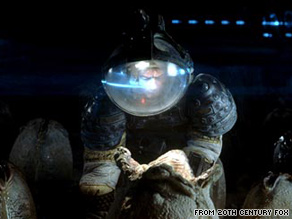 Ridley Scott unleashed a monster that's been scaring fans for 30 years when he directed the sci-fi classic "Alien" in 1979.
The film spawned three sequels and a couple of "Alien vs. Predator" movies.
Now Scott has signed up to direct a prequel to "Alien," Variety reports.
The original, starring Sigourney Weaver and Tom Skerritt, followed the crew of the commercial space ship Nostromo as it responds to a beacon from a mysterious planet and finds itself becoming prey to a parasitic monster.
In the film's most infamous scene, John Hurt's character Kane, seen in the photo on the right, "gives birth" to the creature.
No word yet on the plot of the prequel, but fans are speculating whether the movie would focus on the crashed alien spaceship and the giant skeletonized "space jockey" the Nostromo crew encounters on the planet.
Fans are also wondering whether Weaver would make an appearance in the new film, but the actress says it's unlikely she could reprise her role as Ripley.
"I don't see how Ripley could be part of a prequel," Weaver told MTV news, adding that she's looking forward to the new film.
"I'm glad Ridley's connected to it because I know it will be classy," she said.