Let's begin right at the point where Andrew Klein's dignity goes "buh-bye" and he officially reaches the level of "schmuck emeritus."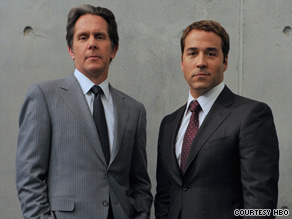 Can we talk about a guy falling face down? Good grief, Charlie Brown. I know the forecasts in this blog have called for "cloudy with NO chance for this meatball," but Andrew Klein has delivered beyond my wildest dreams.  We can talk about a guy being hated in record time, but the interesting thing about this is his personal/professional implosion hasn't even fully blossomed yet.  Last night's stage one was just awful. Stage two? EPIC.
I expect this story line to play itself out until the bitter end with Klein doing something in the neighborhood of spontaneously combusting in the Miller-Gold offices. It's going to get uglier. Stay tuned for the aforementioned stage two.
As for the rest of the show, a few different angles were covered well.  We got to see more Johnny Drama this week with his "love interest testing" and the perfectly chosen music tracks that accompanied each scene. The timing was outstanding and every song was downright euphoric.
Also, we were given a dose of Eric and Ashley's "midday office tryst." I must admit, Ashley's emergence as a character is confusing and "wrinkles my forehead," if you will. It feels like she's likable for a moment, but then I smack myself for such a thought and all is well once again.
Meanwhile, the sad, comical concept of Turtle school shopping can be summed up simply with the sight of him in argyle. Argyle? Really?
And, as usual, EVERY Ari Gold scene was compelling and great to watch. Jeremy Piven's mastery of this character seems to enter another stratosphere each season and this one is no exception.
By the way, I have made a personal note to tell anyone who asks if they can talk to me to "remind me who they are" all day today. I'll let you know how that goes.
Sloan is set to return for next week's show. She's booked the boys to play in a golf tournament with Tom Brady and "Marky Mark" Wahlberg. Now that should be interesting.
Loved, liked or hated this week's show? Let us know!