Watch out - the Georgia peaches are back!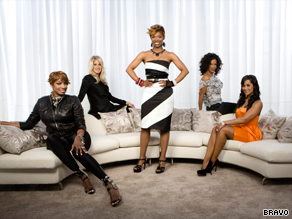 The "Real Housewives of Atlanta" returned for season two on Thursday night and I, for one, couldn't be more excited.
Nobody brings the drama like the ATL crew, so I can't wait to see what they have served up for us this time around.
The usual cast of characters is back – NeNe Leakes, Sheree Whitfield, Lisa Wu Hartwell, and Kim Zolciak – with a new addition, singer/songwriter Kandi Burruss. (DeShawn Snow is no longer with the show.)
We learn that NeNe and her family have moved into a new home near Lisa and Ed, who are considering having a new baby; Kim has broken up with Big Poppa and wants to start her own line of wigs; and Kandi's mom is not happy about Kandi marrying a man with six kids.
NeNe, Lisa and Sheree seem headed for a showdown with Kim, who they hear has been talking junk about them around town.
For all this, the real star of Thursday's show was Sheree.
She and her kids have been evicted from her home, she says, because her ex didn't pay the mortgage. And she and NeNe appear to have buried the hatchet.
But the moment that had me going "Oh no he didn't!" was when Sheree's party planner, Anthony, got all up in her face and served her a big old fat helping of cuss out with a side order of attitude!
Sheree was planning a party to celebrate her divorce being finalized (minus her seven figures it appears) and she was less than pleased with the customer service Anthony was offering.
He didn't come through with a promised helicopter for her entrance, or the planned meeting with the poet who was to memorialize Sheree in print. What he did do was go off on her, inform her that her name was "burnt in the industry" and get into a screaming match that almost came to blows.
The moment Anthony let loose with "Your mama's a b--" I thought for sure that Sheree, who got in his face as well, was going to punch him out.
You do NOT mess with a girl from Cleveland.
What did you think of the premiere?