Last week's results show, featuring Emmy-winning dance routines, must have been very well-received, because the producers of "So You Think You Can Dance" decided to bring back several contestants again this week to perform the Emmy-nominated dances from last season. So once again, it was a very enjoyable results show that offered much more than just a 50-minute wait for the eliminations.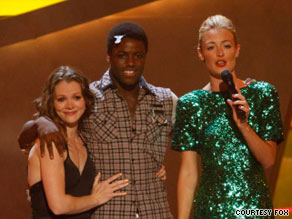 After a Tyce Diorio-choreographed group dance based on "Send in the Clowns" (the "saddest" routine ever, according to host Cat Deeley), it was time to get down to business, as Deeley announced the first dancer who would go to next week's finale. She noted that this person did not necessarily get the most votes. ... So it was rather anticlimactic, but a pleasant surprise to see Jeanine announced as the first dancer to be safe.
Season four's Jessica and Will came out next to perform Diorio's Emmy-nominated "Adam and Eve" routine, one of the most beautiful ever performed on the show, and a chance for the pair to do the encore performance they never had a chance to do in last season's finale due to Jessica's injury.
The guys came out next to learn which dancer would be the second person to be in the final four, and after last night's spectacular solo, there was no doubt that Brandon would be safe. (Since the safe dancer was not necessarily the one with the most votes, the producers could have made him wait to find out, just so the audience could see that solo again... but then again, where would be the suspense in that?) Judge Mary Murphy took the opportunity to mention that she believed in Brandon from the start unlike fellow judge Lil' C and choreographer/occasional judge Mia Michaels. Michaels might never live that down, though she does have that Emmy as consolation.
Mark and Chelsie did an encore of the final Emmy-nominated routine, "Bleeding Love" by Tabitha and Napoleon D'umo, a hip-hop number which always brings the house down, and this time was no exception.
Sean Paul came out to perform his latest hit, followed by the exciting announcement by Deeley that next week's season finale would take place in Hollywood's Kodak Theatre, on the same stage where the Academy Awards are presented.
Then, without further ado, Deeley brought out Kayla and Melissa to tell them the news: Kayla would be going to the final four. Melissa appeared to be expecting this, but was quite grateful for the opportunity and had words of encouragement for other ballerinas out there, "naughty" and otherwise.
As for Kayla, it was clear that she had been a judge's favorite, but it has definitely been an uphill battle for her, having been in the bottom two and three so many times this season. At the same time, she clearly shined on Wednesday night, so there was little doubt that the audience would pick up the phone for her.
With five left in the competition, it was time to say goodbye to a guy as well, and Deeley delivered the bad news to Ade.
What do you think? Did America make the right choices for the final four? Whom do you want to see win it all next week?