With six dancers remaining and just over a week left until the season finale, the pressure was on, on "So You Think You Can Dance" on Wednesday night. As the night went on, it became more difficult to tell who might stay and who might go. After last week's extraordinary, touching performance it seemed as though Melissa and Ade had the wind at their backs, but as onetime frontrunner Janette proved last week, one sub-par dance could make all the difference.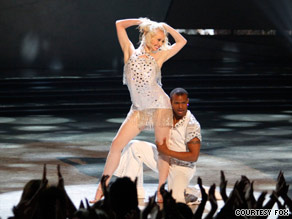 The show began with the three remaining guys, Ade, Brandon and Evan performing a Willy Wonka-inspired jazz routine by Sonya Tayeh. The judges seemed surprised by how much Evan stood out here against the other two guys, who were more in their comfort zone.
Jeanine and Ade took on a sizzling samba by "Dancing with the Stars'" Louis van Amstel, which nevertheless seemed to leave the judges cold. Judge Mary Murphy enjoyed the first 15 seconds, then thought it fell apart afterwards. Lil' C critiqued it in a way all his own, saying that he saw no "explosion of excellence." Nigel was especially critical of Ade wanting to see him excel more outside of his own style.
The pair came back later in the night with a hip-hop routine from Tabitha and Napoleon, and that was more to the judges' liking. Mary even made a point to mention how wonderful she thought Jeanine was in the samba before calling this performance "tremendous." Lil' C liked how Ade's "dirty kind of groove" came out, giving it his "bucc" seal of approval. So maybe the pair weren't in so much trouble after all.
Melissa was first paired with Evan for a Tyce Diorio Broadway routine using "Get Me to the Church on Time." Evan was loving this routine which suited him to a tee, so the judges had high expectations. Lil' C gave them an A, but expected an A+. Nigel and Mary, however, were pleased overall.
Van Amstel returned to choreograph the dreaded quickstep with Melissa and Evan which they performed later on, a routine which didn't exactly wow Mary. Lil' C felt that Evan danced "bigger" than he ever had before, and Nigel took the time to reassure Melissa after her mention of being the oldest dancer in the show's history at 29 (though it might not have been the best idea to compare her to Cloris Leachman). Evan has a big following, so don't count him out, but Melissa could be in trouble based on this.
The final couple, Brandon and Kayla, took on a contemporary routine by Stacey Tookey. Lil' C called it "beyond amazing," especially since he considers Brandon the first partner she was matched with equally. Mary and Nigel praised the pair's technique.
When it comes to disco, "So You Think You Can Dance" has a very mixed record, and this was Brandon's second time performing in this style. The result was a performance (choreographed by Doriana Sanchez) filled with lifts and other tricks, which seemed to exhaust them towards the end, though they did a great job not showing how tired they were. Lil' C said that this performance showed that they had learned to "see with their ears." Mary paid special attention to the "double death drop" in ther routine as well. Nigel had a very "professional" critique of the dance which consisted of him screaming at the top of his lungs like Mary.
The show ended with the three girls performing a very fun routine choreographed by Tayeh, in which they portrayed superheroes. Lil' C thought that the trio really didn't "go for the gusto," he got amazing but needed "more than amazing." Mary disagreed, saying that amazing was, well, amazing. She felt that Kayla stood out among the three, but Nigel found them all equally good.
As for the solos, Brandon's was by far the most memorable because it got the crowd and the judges on their feet, Nigel calling it one of the best in the show's history.
Indeed, it appeared that Brandon, and for that matter, Kayla (whose solo didn't disappoint either) could do no wrong this week.
So, if America concurs with the judges' comments, it seems like Ade could be facing elimination, and it's anyone's guess whether Melissa or Jeanine will be joining him. Whom do you think is going home, and which dancer has the best shot at the title of America's favorite?