Day two of the Television Critics Association Summer Press Tour started with lots of laughter thanks to Joan Rivers! There aren't a lot of people in Hollywood who keep it real when talking about others, but Joan Rivers does.  She sat down, got miked up to promote her new show on TV Land called "How'd you get so Rich"  and started offering her opinions on topical news.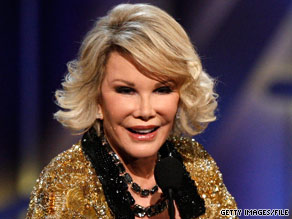 Upon hearing the news that President Barack Obama invited Harvard Professor Henry Louis Gates Jr. and Cambridge Police Sgt. James Crowley to the White House for a beer to hash things out, she said, "Obama needs to stay out of local politics."
Rivers dropped the F-bomb this week while touting her new show on "Good Day Sacramento."  The host asked Rivers if she ever ran up to someone and said "Hey how did you get so rich?" and have the woman say "by riding on my mom's coattails." It was a dig at her and her daughter Melissa.  Joan reacted saying, "I don't think so. Don't get so (expletive) smart. I think we are going to end the interview right now."  Joan told me that host crossed the line and the comments were inappropriate. She added, the last time "Good Day Sacramento"  made news was when one of the Shriver clan got new teeth. Yep Joan is, if nothing else, always funny.
But Joan wasn't the only funny one at the TCAs today. Mr. Kevin Nealon who is the voice of the traveling dentist, Dr. Glenn Martin, on the new Nick @ Nite animated series "Glenn Martin, DDS" refused to let our interview end without cracking me up. He said he not only thinks it's a great idea for President Obama to invite the Sgt. Crowley and Harvard Professor Gates over for beer, but he should take it a step further and invite Joe Jackson over along with the doctor of the late Michael Jackson, Dr. Conrad Murray. He thinks they could perhaps talk things over.
I've covered the TCAs for years for CNN and I can count the times on one hand that a celebrity has surprised me by saying something I found intriguing. I'll add today to that list. I interviewed executive producers Matt Damon and Howard Zinn about their new series on the History Channel called "The People Speak" where celebrities read and perform stories about ordinary people who have changed history. Well after the interview about their project, I asked for Matt's reaction to President Obama inviting the police officer and professor over for a beer. He confided in me that his good buddy Ben Affleck actually knew Sgt. Crowley. He was Affleck's contact for a film he was shooting in Boston called "The Company Men." That was before Sgt. Crowley and Professor Gates made headlines.
Wow!! The things you learn at the TCAs.