Listening parties are the new hot ticket in town.  Last week, tastemakers in New York and Los Angeles were treated to lavish events where they sat and listened to cuts from Whitney Houston's new album, after being plied with crabcakes and coconut shrimp.  The Comeback Queen herself even popped in for a surprise hello at the end of each evening.  The week before, several hundred scenesters piled into a theater across from Capitol Records in Hollywood for an Alice in Chains listening party.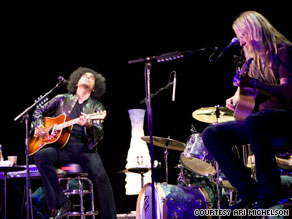 Alice in Chains at a listening event in Los Angeles, California.
Grunge fans and industry types noshed on Double Doubles with cheese from a mobile In-N-Out Burger truck while previewing the band's first album of new material in 14 years.  Then just when you thought the event was over, the curtain rose and the resurrected quartet - with new singer/guitarist Williams DuVall - shocked the crowd by launching into a three song acoustic set.
Last night, the Australian rock group Wolfmother unveiled its psychedelic new CD, "Cosmic Egg," with a listening party at the Laserium Cyber Theater on Hollywood Blvd.  Green, blue and red laser beams pulsed to the beat.  Spirograph-inspired flowers "bloomed" mid-air.  Imaginary animals "ran" across the ceiling.  No crabcakes here - just all the soda, candy and popcorn you could eat, until the popcorn machine took a dive.
In this day and age of rampant piracy, record labels want to protect their new releases from hitting the internet before their scheduled street date - so for many top artists, journalists and others aren't given advance CDs.  Often, they'll need to go to the label or to a publicist's office, where they'll be forced to listen to the disc by themselves in a conference room - while their cell phones, BlackBerries and other potential recording devices are confiscated and held in a different room.
Listening parties turn the solitary sessions into communal events that create buzz.  Sometimes it isn't so much how the album sounds.  It's about whether you had a good time at the party.  After all, isn't that what music's about - listening to a song and attaching a certain emotion or experience to it?