At first I thought it had to be a joke: making diamonds from the DNA of Michael Jackson? Following his recent death, entrepreneurs rushed to get unauthorized biographies, memorabilia and other Jackson-themed items to market. But diamonds from DNA? It sounded macabre.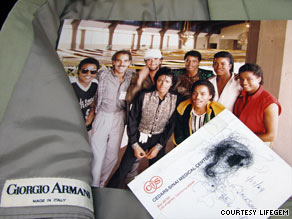 Apparently, it's possible.  LifeGem "specializes in creating diamonds from locks of hair," and according to founder Dean VandenBiesen, the company plans "to give people an opportunity to own a diamond made from Michael Jackson's DNA."
You may wonder how they came to possess Jackson's DNA. Remember the Pepsi commercial, and the excruciating video where Jackson's hair catches fire and crew members surround him and snuff out the flames?  Executive Producer Ralph Cohen apparently used his Armani jacket to extinguish the fire, and subsequently picked up a lock of the famous charred hair off the ground.  Both the jacket and the hair were sold to John Reznikoff. He collects hair. He counts follicles from Abraham Lincoln, John F. Kennedy, Albert Einstein and Marilyn Monroe in his collection. Reznikoff is keeping some of Jackson's hair; the other portion is being used by LifeGems to create the Michael Jackson diamonds.
The company "anticipates great interest" and says this will be a "limited collection."  Perhaps I'm limited in my imagination, but the thought of owning a diamond made from Michael Jackson's DNA has very little appeal.
Would you buy one?
More on this fascinating story tonight on Showbiz Tonight on HLN – 11pm ET/PT