Editor's note: This post contains spoilers for Sunday's episode of "True Blood."
"Leather is tough/but Hannah's heart is tougher./She's a gal who loves to see men suffer."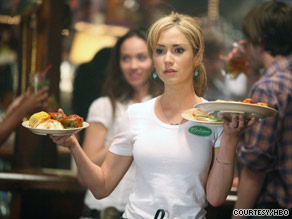 So … any question why the Tin Pan Alley classic, "Hard-Hearted Hannah," was the title of Sunday's "True Blood" episode?
Sure, we see Prohibition-era Bill crooning it – just as Ella Fitzgerald, Ray Charles, Bobby Darin and probably hundreds of others have done over the years.
But last night, there were a whole bunch of "gals" making a whole bunch of men suffer.
There was vampire Pam telling a traumatized Lafayette that, after nearly being killed by vampires for selling vampire blood, he needs to start once again selling vampire blood.
There was Lorena, Bill's maker, showing back up and making it pretty clear she's ready to take back what's hers. And whether or not Sarah Newlin set out to make Jason suffer, their one-on-one sanctuary session could have some ugly end results.
But the "Meanest Gal in Town" award clearly goes to Maryann and Daphne.
Some readers of this blog were getting tired of the Maryann storyline not going anywhere. But that all changed last night, when we learned exactly what she had in store for sad-sack Sam.
Daphne, of course, reminds us that – just like with those "make millions working from home" signs and e-mails from Nigerian diplomats – if something seems too good to be true, it probably is.
So, guys, if a cute waitress shows up out of nowhere, shows you she can magically turn into a whole barnyard full of different animals and proposes a use for a pool table that they do NOT show on ESPN2... run the other way.
We all pretty much knew the creepy Maryann had it in for Sam, but for the seemingly sweet Daphne to have been in on the plot?
Well, that, as the songwriter said, is colder than travelin' through Alaska in your BVDs.