The foot traffic at Comic-Con is intense. Getting around can be difficult. What isn't difficult is meeting people. Take this conversation I overheard for example: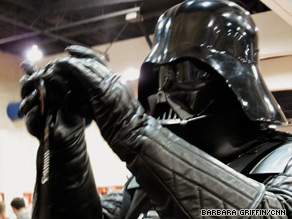 Girl with camera: "Hi, Jack! Your outfit is so cool."
Jack Sparrow: "Thanks."
Girl with camera: "Can I get a picture?"
Jack Sparrow: "Sure." (Jack Sparrow draws his sword and lunges forward.)
Girl with camera: (click) "Thanks. You look exactly like Johhny Depp."
Jack Sparrow: "Thanks. It's all in the hair and eye-liner."
From what I observed, every comic-conner who took the time to lather on face paint, buy a plastic weapon or accessorize with something that requires a battery, was more than happy to grant photo ops to their adoring fans. And inevitably they would have a festive little pose on standby to accompany it. It was this second phenomenon that brought me the most joy. I do love a good pose. But I digress.
As I was saying, I saw this same friendly interaction happening all over the convention. Occasionally, patrons didn't even have to ask for permission to start snapping away. There was one creatively dressed young man towering over a crowd of eager photographers. His half-bird, half-lizzard face mask hid his true age, but I have to assume he was young because of the ease with which he navigated his 5-foot tall stilts. This is what you would call a "stand-out" costume and one need only approach him and photograph at will.
I can easily imagine many of these chance acquaintances leading to much more meaningful relationships. I bet some even lead to romance. The sheer volume of of people at Comic-Con makes it a mathematical certainty. And what a great story that for the family!
"How did you and Paul meet, dear?"
"He was the most amazing Storm Trooper I'd ever seen."
Yes, Comic-Con is a very friendly place and I have absolutely adored being here. I should add that this morning I interviewed David Glanzer, Director of Public Relations for the convention, during which time he informed me that only about 1percent of the conventions estimated 125,000 attendees actually dress in costume. Based on my math, that's well over 1,200 chances at love!