Editor's note: This blog post contains spoilers to the result show of last night's "So You Think You Can Dance."
The producers of "So You Think You Can Dance" promised an unforgettable 100th episode (including Katie Holmes in the "performance of a lifetime"), and they did not disappoint: When it came down to the real business of the night - eliminating America's eight favorite dancers down to six - it turned out to be one of the most shocking results shows ever.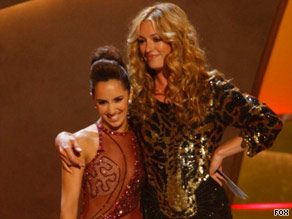 But first, we got to take a nice walk down memory lane... Viewers were treated to encore performances of the three Emmy-winning routines: "The Bench" choreographed by Mia Michaels, "The Hummingbird and the Flower" and "Ramalama (Bang Bang)," the latter two choreographed by Wade Robson.
Then, it was the much-talked-about performance by Mrs. Tom Cruise herself. It was an elaborate routine, partially shot on a sound stage, where Holmes danced (and sang) an homage to Judy Garland, the classic "Get Happy." She certainly appeared ready to be cast in the next Broadway-based movie adaptation, and there's no doubt that she has a passion for it, after a similar appearance last year on the now-canceled series "Eli Stone." It was punctuated by the fact that Garland's son Joey Luft was in the audience.
After such an extraordinary celebration of the show, it seemed like a downer to have to say goodbye to two more dancers, but such was the case as usual on Thursday nights.
When it came time to announce the female dancer with the least votes, Janette, who had shown an ability to take on anything the choreographers threw at her, went home. Judge/executive producer Nigel Lythgoe made it known that she was his favorite to win, and he certainly wasn't alone on that. A top six without Janette seemed unimaginable just last week. Between Brandon and Jason, it was much less surprising to see Jason eliminated, despite his having a good night on Wednesday. It just goes to show you that one lackluster night is all it takes to mark the end of the road.
What do you think? Did America make the right choice this week? Was it Janette and Jason's time to go? Did Katie Holmes' dancing compare to this season's top 20? Now that one-time front-runner Janette is out, whom do you think will take the title of "America's Favorite Dancer" in two short weeks?