There's a certain energy that follows Kristen Stewart as she makes her way from reporter to reporter at the 2009 Comic-Con.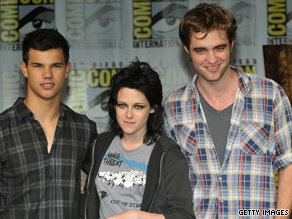 Fans of her lead role in the "Twilight" franchise and its upcoming second installment, "New Moon" aren't shy about their hunger for any scoop they might get about the film's divergence from the popular Stephenie Meyers novels. She's tight-lipped on those queries.
Others are feverishly excited about her "new look.". She's currently sporting a short, black windblown "rocker-girl" hairdo as she is on a break from filming her next movie in which she portrays the famous singer, Joan Jett.
Yes, she likes her new look. Although, she admits taking a break from her character to promote her other film project is not her first choice.
As for the other energy surrounding Ms. Stewart, it centers entirely on her potential romantic life – she and "Twilight" co-star, Rob Pattison, have been linked for months on tabloid covers everywhere.
This energy will continue to build and likely follow the fair-skinned beauty throughout her tour of duty at the world's largest comic convention as her publicist makes it clear, "If I hear one personal question I stop the interview!"
My professional assessment?  If you have to ask the press not to ask, chances are there's something to say.
So, what did I find out?
Kristen doesn't go to malls.  She thinks fans will like the second installment of "Twilight" better than the first because of her co-star, Taylor Lautner, who appears shirtless for much of the film.
And finally, she is truly inspired by the droves of fans who continue to support the "Twilight" franchise and impressed that they are often even more excited about her character than she is.