30-plus years ago, Anthony Daniels was standing in the Tunisian desert in a gold metal suit, having accepted a movie role he didn't really want.  The role, of course, was C3PO in Star Wars, and it's taken Daniels further than he ever dreamed.  This week, it took him to Canali, a swank men's clothing store on Rodeo Drive in Beverly Hills.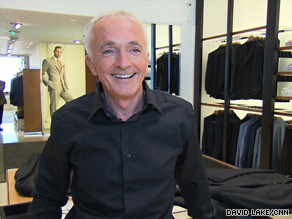 "It's almost a bigger journey than Luke Skywalker's," notes the graceful, gentlemanly British actor, who was being clothed for his latest Star Wars-related project: "Star Wars: In Concert," a touring stage show with a full orchestra and choir performing John Williams' legendary music from the franchise, as specially edited montages from the movies play on a massive screen.  Daniels will provide live narration for the show - a task he finds both ironic and appropriate.
"You know, in Star Wars, C3PO says 'I'm not very good at telling stories - not at making them interesting, anyway,'" Daniels recalls, noting that by Return of the Jedi, "there is C3PO talking to all the assembled Ewoks, and he's chatting away, telling them the story of the avengers, the rebels... and here I am now telling the story of Star Wars."
Daniels' zeal for the project was obvious, and his enthusiasm for a role he's played for more than half his life seemed undimmed after all this time.
"It's been a job for 30-something years," he mused about his high-strung, often whiny robotic alter ego, "a job that other people have loved the fact that I do it.  That's hugely rewarding, whatever the physical discomforts.  Sometimes the anonymity has been awkward; other times, I've been very grateful for it.  But to have a job, and then to realize how fond you are of the character you play... you know, maybe if he was somebody else, I would have given up.  I'm actually very fond of C3PO.  He's a good guy."
Does "Star Wars: In Concert" sound like something you'd go to see?  What are your favorite Star Wars characters and memories?