It was certainly a memorable night on Fox's summer sensation "So You Think You Can Dance." On the eve of its 100th episode, there was a fourth judge Wednesday night. No, not Kara DioGuardi (and not Paula Abdul either), but comedian/talk show host Ellen DeGeneres. DeGeneres, who is quite fond of dancing on her show, took on the role of judge for a night.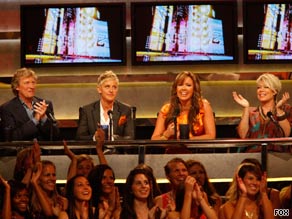 DeGeneres made her role on the show clear from the get-go as she talked about learning how to dance from "the streets... actually it was a gated community, and there was just one street."
As the show wore on, executive producer Nigel Lythgoe seemed underwhelmed for the most part, while DeGeneres continued to pull off some zingers (like "Are you two carpenters, because you nailed it!"). Judge Mary Murphy even remarked that the dances seemed to be going in slow motion at one point.
Later on in the show, Melissa Sandvig and Ade Obayomi performed a very personal routine for choreographer Tyce Diorio about a friend who is facing breast cancer. The soaring performance left Lythgoe welling up as he called this routine an example of why he loves dance and worthy of another Emmy nomination for Diorio. DeGeneres called it the "most beautiful thing I've ever seen."
Kayla Radomski and Jason Glover finished off the night with a Shane Sparks hip-hop routine, where the two portrayed zombies. The judges loved it, with DeGeneres saying, "Keep dancing like that and you'll get your own talk show someday."
These last three performances left two fan favorites, Evan Kasprzak and Janette Manrana, seemingly in danger for Thursday night. Then again, it's not really up to the judges at this point in the show, which made DeGeneres' turn as a judge all the more appropriate.
What did you think? Was it great to see a fan like DeGeneres judging, even if it was for comic relief, or is three enough for you? Are you looking forward to tonight's 100th episode with Katie Holmes, and the chance to revisit some favorite performances?