Today marks the official opening of Comic-Con, the world's largest comic book, movie and pop culture convention.  This year, the San Diego-based event celebrates its 40th anniversary as ground zero of all things new, cool and about to explode on the mainstream.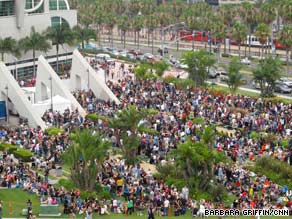 Comic Con fans wait in line outside Hall H. Some camped overnight.
It's interesting and even a little ironic that I am here because I am not what you would consider a fan of comic culture.  Sure, I have enjoyed the big screen adaptations of the "X-Men" franchise and, of course, was moved by Heath Ledger's performance as "The Joker" in last year's "The Dark Knight," but for the most part I have a working knowledge of comic books on par with your average 65-year-old woman.
I say this to add a bit of context to this blog entry.  Observant, excitable, and curious I am, well-versed in the world of comics, I am not.  What I do know is spandex.
It is estimated that 125-thousand people will circulate through the halls of the San Diego Convention Center during this four-day event.  From what I can tell, about 124-thousand have chosen to decorate their bodies in some form of spandex.  I have a long and checkered history with the stretchy, entirely unforgiving material which we will not go into here.
This early life exposure led me to an acute understanding of the clingy fabric. From what I have seen this familiarity is not entirely shared by the aforementioned 124-thousand "Comic-Conners" in my general vicinity.  For those who care, I would like to share three little guidelines about spandex that I've learned over the years.
(1) Big or small, spandex accentuates everything.  It is a common misperception that spandex is only unflattering on bigger body types.  This is simply not true.  If you have the metabolism of a hummingbird and have to run around in the shower to get wet, chances are you do not have what it takes to give this long chain polymer its necessary "stretch" for maximum appeal.
(2) Spandex is better cast as a "supporting character" than in a "lead role."  One should not feel as though their entire outfit should be made from spandex, simply because it can.  Forearms, hands and the occasional headband are often times "safe" uses of spandex.  Torsos, thighs and derrieres tend to be "danger" areas.
(3) Spandex is a privilege, not a right.  The ability to locate and/or afford spandex does not necessarily mean one should wear spandex.  Let's be clear, it takes a very special kind of body type to make the stuff work and work well.  Chances are your favorite actor or actress worked with a personal trainer for months before earning the privilege of wearing it.  It's just an educated guess, but something tells me The Green Lantern did not stop at KFC on his way to saving the world.
So, my silly lesson in spandex aside, I will say this about what I've seen at Comic-Con so far, there is no shortage of passion.  For many of these fans, they have spent years, if not a lifetime enjoying this art form.  They are here to show how much they care, and that kind of dedication, even set against a spandex backdrop, is impressive.