A standing ovation brought Whitney Houston to tears last night in New York City. No, the songstress wasn't taking the stage to sing, she was there to thank her fans, family members and celebrity friends who were invited to an intimate listening party for her new album, "I Look to You."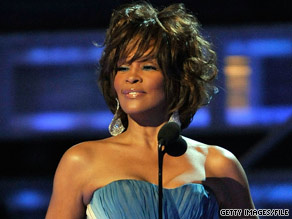 Whitney Houston speaks at the 51st Annual Grammy Awards in February.
Houston's mentor and long-time producer, Clive Davis, hosted the event, and introduced 9 tracks from the album before the diva jumped on stage.
ABC newswoman Diane Sawyer, who conducted the infamous "crack is whack" interview with Houston, sat front and center and was greeted with a big hug when spotted by the singing superstar. Martha Stewart, Vivica A. Fox and Alicia Keys, who wrote and produced one of the new tracks, were also on hand to lend their support.
But it was her family members Houston credited for inspiring her return to the studio. Mom, Cissy, cousin, Dionne Warwick and 16 year-old daughter, Bobbi Kristina, were also there to welcome Houston back to the spotlight.
"I Look to You," Houston's first new album in 7 years, is out September 1st.