Editor's Note: This post contains spoilers for the Sunday, July 19 episode of HBO's "True Blood."
With the appearance of 2000-year-old Godric on Sunday night's "True Blood" episode, the show's giving a nod to one of my favorite vampire twists – vamps who were young when they were "turned."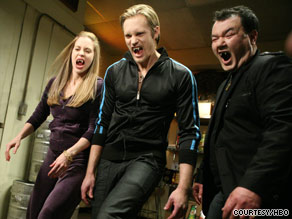 In solving what was apparently a mystery only to Bill – although pretty obvious to any viewer paying attention - Godric was the maker of Eric, the sheriff of Louisiana and, according to the posts on this blog, a favorite of a lot of viewers.
Looking about 15 years old, Godric (played by 19-year-old Danish actor Allan Hyde) saved Viking Eric from certain death on an ancient battlefield – answering the question of why his disappearance is important enough for the Nordic vamp to leave his post and head to Dallas (gotta love the cowboy vampires) to look for him.
The kid-as-ancient toughie bit will remind genre fans of Claudia, an even-younger child when she was turned by Lestat in "Interview With the Vampire." Claudia, of course, never becomes the powerhouse that Godric is – but shows the same ruthlessness and adult-sized blood thirst that is just really cool coming from a child-size body.
It's a reminder that while vampires remain in human form, they're something else – deadly and ancient even in a child's body.
On other fronts, Jason's "reward" from Sarah Newlin, the disappearance of telepathic Barry the Bellhop and Daphne's revelation to Sam (who still hasn't seemed to notice those gigantic gashes on her back despite some up-close opportunities) show the twists and turns will keep coming.
The saltiest, though, promises to be the woman walking through the hall of the Dallas hotel while Bill and Sookie were enjoying a private moment. I won't spoil it for anybody who didn't immediately recognize her.
But the opening recap montage should have reminded viewers who she is, one of the reasons for the episode's title, "Never Let Me Go," and why things could be getting even trickier for poor Bill.