Let's get right to it. Last week, a few of you spoke on the error of my ways, and I need to issue a retraction of the season-opening blog where I spoke of my disdain for Eric's ex-girlfriend-turned-buddy Sloan. People, I got it wrong. From her appearance at Eric's new apartment, to her stunning reveal on the red carpet, I'm officially "alright" with Sloan as of this episode and I plan to take it one show at a time. I'm a changed man.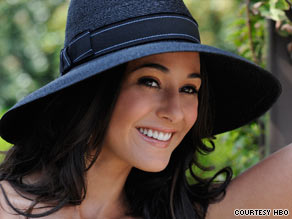 Now that I've made peace with that, lets get to the episode.
Lloyd's "100 days project" is well underway. He seems determined to survive by eating just one grape per hour each day for the 100 days. Wait...What? One grape per hour? Say that to yourself a few times, and let it really sink in. "One – grape – per – hour." Don't get any ideas folks, and do NOT try that at home. I do NOT approve that message.
My episode highlights were the explanation of the one-word name "just Turtle," like "Madonna" by Med' Soprano (do I have to call her Jamie Lynn Sigler?) Also, who could forget Drama's date for the premiere, who seemed priceless-ly "loose" here and there. And then there's Eric, whose love life is totally awkward and woefully disjointed, but I admit, I'm interested. "Who's the child with the bad attitude?" Well played Sloan. Well played indeed.
Last up: the crash and burn update. My "spidey" senses were tingling in last week's blog, and Andrew Klein is in fact on his way to implosion. Both his shifty actions and the introduction of Mrs. Klein (played by Jami Gertz) are proof positive that the storm's o' comin'.
Keep watching...Next week's episode should be a good one as our beloved Turtle (just...Turtle - one word) straps himself in for a wild ride on the self-esteem train.
Loved it, hated it, or just kinda neither? Tell us your thoughts on this week's episode below.