Devotees of HBO's "True Blood" will probably already have discovered that those wacky true believers at the Fellowship of the Sun have their own Web site.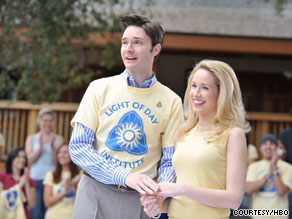 Need Sarah Newlin's advice on how to "detoxify your marriage" or a prayer to help you "fight the perversions of life at every turn" (Including, of course, the allure those pesky blood-suckers)?
You'll find all that at www.fellowshipofthesun.org - and more.
This week HBO (a CNN sister network) rolled out another twist on the site - part of a viral marketing campaign that it's been using for the show.
The church group's site has been "hacked." Using the login and password of Luke - Jason Stackhouse's rival at the Light of Day Institute - you can get a peek behind the thin veneer of goodness and light at the anti-vampire group's camp for fang haters.
In addition to "The Lukenator's" rambling and poorly-spelled musings, you'll find a recruitment video for Soldiers of the Sun - complete with barking drill sergeant and images of masked recruits tackling a dummy with a Dracula mask on - and an instructional video on how to load shotgun shells with wood for a new twist on the old stake-through-the-heart routine.
As the preview for Sunday night's episode suggests - along with the Dallas bushwhack attempt in last week's show - it looks like the group's rhetoric has already become action.