The ESPY awards… the annual event where Hollywood celebrities and sports figures collide, and big names like Ben Roethlisberger and Michael Phelps trade in their uniforms (or in Michael's case, Speedos) for suits, sunglasses and lots of bling for a walk down the red carpet.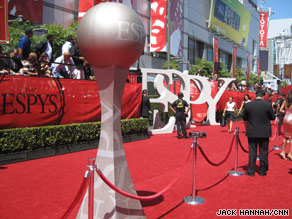 The ESPY awards is the annual event where Hollywood celebrities and sports figures collide. More photos »
There were those familiar with the glitzy setting: Terrell Owens has never met a camera he didn't like; Serena Williams and Danica Patrick know how to strike a pose; and Lakers star Kobe Bryant is no stranger to the Hollywood spotlight. 
But then there are those who genuinely seemed bewildered by the whole scene, as if out of their element, but in an endearing way.
Matthew Stafford, this year's number one overall NFL draft pick, was attending his first ESPY awards.  The 21-year-old quarterback admitted that despite playing in front of thousands at the University of Georgia, the setting outside the Nokia Theater in downtown Los Angeles Wednesday was not something he's used to. 


Check out photos from the red carpet »
Dallas Cowboys head coach Wade Phillips had a "you really want to talk to me???" look on his face when I wrangled him for an interview.  But to his credit, he successfully skirted media questions about his star quarterback Tony Romo's personal life… well played, coach, well played.
And then there was the taping of show itself.  The production was a little shaky at the beginning.  Host Samuel L. Jackson had to improvise when the teleprompter stopped working not once, but twice.  But Samuel L. kept his cool and took a few stabs at audience members during his opening monologue where no one was off limits.  Just ask Phelps (remember the photo of him apparently using drug paraphernalia?), whom Jackson said is glad to be back in the pool where nobody can give him a hard time "when you smoke the competition."
And by the way, Phelps DID smoke the competition at the ESPYS: the Olympic swimmer won five trophies.  However, that's three less than the total of gold medals he won in Beijing last summer, so overall a disappointing night… but you wouldn't know it by watching his mother Debbie, who's perfected the "so proud" facial expression.
Despite a few production delays and prompter hiccups, the show taping was completed in less than three hours.  That's one thing Hollywood award ceremonies, which tend to drag on for hours, can learn from the ESPYs – shorter acceptance speeches.  We're all familiar with long, dramatic monologues from a sometimes frantic actor or actress after a big win as they thank countless  people you've never heard of.  Often times, even the theme music that's played as a sign to wrap it up isn't enough to get them off the stage.
But there was no need for a maestro at the ESPYs.  Take Atlanta Falcon's quarterback Matt Ryan's speech after winning the best breakthrough performance award:
"All right, wow.  Well, thank you to the fans for uh, for voting for this, um, congratulations to the other contestants also, Derek (Rose), Evan (Longoria), and Shawn (Johnson), you guys are all deserving of it.  Uh, thanks to my teammates, without you none of this is possible, um and thanks to my family for their support through everything so, thank you and have a fun night and hopefully we can do it again next year, thank you."
Dignified, simple, non-controversial and most importantly, less than thirty seconds.  With the Emmy Awards approaching, a few in TV land might want to take notes.
The ESPY Awards air this Sunday on ESPN.