I knew who Bill Nighy was prior to meeting him for my interview. The classically trained actor from Surrey, England began his career on the stage. He has taken home plenty of awards for his work. However it is his standout film roles in recent years that have made him more familiar to moviegoers - he appeared in two "Pirates of The Caribbean" installments as Davy Jones.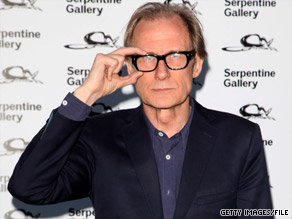 But for me the role that conjures up his image most vividly is his character Billy Mack from "Love Actually." In the film, Nighy unabashedly rolls out his best version of a bawdy rock legend unwilling to let go of the spotlight.
When I stepped into Nighy's hotel suite at the Ritz Carlton New York, the man sitting in the spotlight only slightly resembled Billy Mack. Nighy, well dressed in a finely tailored suit looked at me from behind thick-framed glasses with a kind smile.
I had a good conversation with Nighy. He was thoughtful and engaged throughout the interview. I asked him how he fits into "G-Force," Disney's new animated film about secret agent guinea pigs. He told me he fits in quite nicely and is always looking to do different things in his career.
"G-Force" opens July 24th, so you can see for yourself how Nighy fits in as the live action character of Saber.
Towards the end of the interview I asked Nighy; "What inspires you these days?"
"Michelle Obama coming to England and high-fiving a young North London schoolgirl and the look on her face made me cry. I'm inspired by your new, your current President."
There were a few more things on Bill Nighy's inspiration list, but the Obamas came in at number one this go round.
What inspires you?