"I cried." That's how funny man Tracy Morgan reacted when he heard the news that Michael Jackson had died.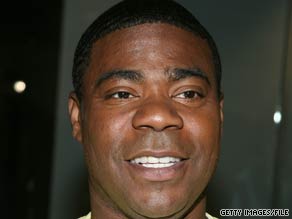 During an interview with Morgan for the new film "G-Force," I couldn't help but ask him about it - he was sitting across from me wearing a t-shirt with Jackson's face on it.
I was in the last group of journalists to be filed through Morgan's multi-camera appointed suite. It was late in the day, so I asked Morgan if he was tired. He said he was feeling good and that he was excited to talk about his new film.
Morgan lends his big voice to one of the tiny characters in "G-Force," a 3-D, live action, animated film in theaters later this month. We talked about the film and his experience on the NBC comedy "30 Rock." I asked him about the pressure of having to be funny on cue.
Then I tiptoed into: "Would you care to comment on the untimely death of Michael Jackson?" When discussing loss, I believe you can never be too careful. Although Morgan was wearing a 'King of Pop' t-shirt, I wasn't sure if he would want to talk about it, but I had a feeling.
Morgan got quiet and looked down. He explained that he grew up with Michael Jackson. He said that no one was allowed to say anything bad about "Mike" in his house. I understood. Tracy Morgan didn't actually know Jackson personally, he just felt like he did. He spoke for a while, but it was immediately clear just how much Jackson meant to him.
"I know I was this close to meeting Michael Jackson," Morgan said. "I met everybody in showbiz except for Michael, and I know I was this close. But I can honestly say I think I made him laugh. I'm quite sure I made him laugh. I'm good with that."
I left the interview hoping that was true.