I ventured out to the suburbs to visit my parents for a weekend of family fun: barbecuing, hanging out on the porch, catching up, and of course - lots of laughing. So when my mother announced that we were going to the movies to see "Public Enemies" on Saturday night, I threw a wrench in the plan and insisted we see "Bruno" - hey, I wanted to keep the laughs coming.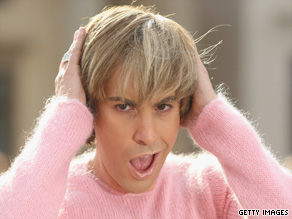 To give you a little bit of a background to set the scene: I am an only child, a daughter, the apple of my parents' (collective) eye. I went to an all-girls' Catholic school for 12 years and basically grew up in an ivory tower.
Don't get me wrong, my parents and I loved Sacha Baron Cohen's "Borat," and are by no means easily offended. But in terms of pushing the envelope, "Bruno" - the story of a flamboyant Austrian fashionista who travels to Los Angeles in search of fame - is leaps and bounds past "Borat." Perfect on a movie night with friends… not so much with Mom and Dad.
To put it mildly, the film features montages of people engaging in all manner of sexual activity, parts of the male anatomy that talk and wave, and other such cringe-worthy scenes. Color me mortified!
At one point my mom leaned over to my dad and said, "I can't believe Kate wanted to see this!" I wanted to hide under my popcorn bucket. I later overheard my dad say that while he found the film hilarious, he would have enjoyed it more if he'd gone without me.
Learn from my (t)error: Do not go see "Bruno" with your parents, grandparents, or offspring.
How about you? Have you seen "Bruno"? Or have you ever watched a movie or TV show with someone who made it incredibly awkward?