On HBO's "True Blood," flipping away from the bloody goodness a minute too soon can hurt.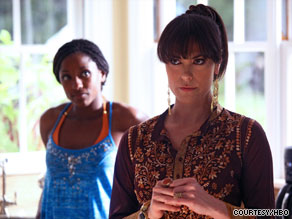 Sunday's episode, "Shake and Fingerpop," shelled out a pair of tantalizing twists in its final moments - a technique writer Alan Ball and company have used a few times in the past for maximum cliffhanger effect. (Proceed cautiously, fans of the fang. Spoilers ahead).
First we learn that the mysterious and seductively creepy Maryann is the minotaur-like creature that's been carving up the residents of Bon Temps - which wasn't terribly hard to see coming but good to finally have out in the open.
It also looks like the hormone-soaked parties that she induces - Now with dirt eating! - have something to do with her ability to make the switch.
And right before the credits roll, Sookie learns that she's not the only one who can read people's minds. She and Barry, a bellhop at the Dallas vampire hotel, share an accidental brain chat - setting up all kinds of fun questions about who he is, why he's there and who, if anyone, sent him.
Also, anyone else think bellhop in a vampire hotel would not be a great job for a mind reader? Hell, the minds of a regular hotel's patrons would be bad enough to peek at, much less a place where "male, straight, B-positive" is an item on the room-service menu.
The bits with Jason and the Fellowship of the Light dragged on a bit, although we get to see his fantasy - think Warrant's "Cherry Pie" video meets Padma Lakshi's Hardee's commercial - about Sarah Newlin and more hints she's willing to do more than grill ribs and "whip out her pudding" for him.
Laugh of the Night award goes to Lafayette for his amped-up bump and grind with everything within reach after getting a mouthful of Eric's blood. Apparently the stuff from 1,000-year-old Viking vampires packs more of a punch than he was used to getting.
Not the most action-packed episode ever. But it set up bunches of salty story lines for the near future.
And ... a look at next week's episode.