Editor's Note: This blog post contains spoilers for the season premiere of HBO's "Entourage."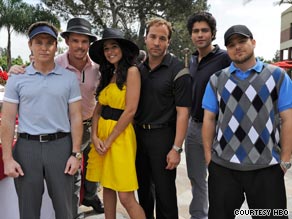 The sixth season is underway. When we last left the crew, Vince's career had fallen on lean times, Martin Scorsese appeared to ask Vince to play a lead role in his new flick, the boys toast to what the future might bring and we faithful "Entourage" fans are left hungry for more.
Last night's season premiere got off to a quick start with the familiar diet of Ari Gold's insult-laced dash through the agency on his way to a surprising showdown with Gold's faithful assistant, Lloyd. Lloyd is the very polite "yin" to Gold's very profane "yang". But this time, Lloyd is demanding a promotion or answers as to when things will work in his career's favor... or both, in no particular order.
The interaction between these two is memorable as Gold soon realizes he cannot break Lloyd's will on the issue and offers the proverbial olive branch. In a brilliant, simple moment of "Entourage" hilarity, Gold proclaims "Lloyd, you have 100 days". Needless to say, this particular plot line could carry the show and make for a comedic season of its own.
At this point in the episode, all the familiar "funny-cool comforts" of "Entourage" are back in place. Let's recap them quickly:
I'm not a fan of Eric's ex-girlfriend Sloan and I wish he would extinguish that flame once and for all. She doesn't deserve 75 cents for cheese on her Whopper.
I sense an "Independent Vince" theme developing as this season progresses that started with the driving test that Vince failed miserably. More on that shortly.
Johnny Drama's aptly-timed "Drama-isms" always seem to have us searching for the logic hidden deep within (whether said logic actually exists-or not).
Turtle's budding romance with former Sopranos' star Jamie-Lynn Sigler is a touchdown for the regular guys whenever she appears, and the regular guys are rooting for him - big time. Turtle, you complete us.
Gold's buddy-turned-reclamation-project Andrew Klein is officially due for an epic crash and burn at Mr. Gold's expense. While I can smell Grey Flannel in the air when he's on-screen, I cannot predict exactly when the crash will come. However, just like the public bus, I know it is coming soon.
The episode ends with Vince coming home to an empty house. The boys are each off having their own adventures, and this uncharted water foretells that there are new shenanigans to be had.
All in all, it was an enjoyable start. Lots of ideas were sparked with the first episode and it will be interesting to see how things play out. Do you agree? Tell us your thoughts on "Entourage" below.