Stars are dropping like flies... another one today.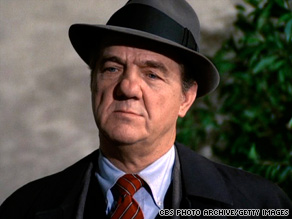 Actor Karl Malden, who starred in the classic films "A Streetcar Named Desire" and "On the Waterfront", has died at the age of 97, we have confirmed.
Malden's manager, Bud Ross, told CNN the actor died in his sleep early Wednesday at his home in the LA area. He didn't know the cause of death.
"It could be a combination of things," Ross told us. "He was 97 years old."
Malden earned two Academy Award nominations, and won for his supporting role in "Streetcar" in 1952.
He also won an Emmy for a TV movie in 1985 and was nominated for another four Emmys for the television series "The Streets of San Francisco".
A trench coat-wearing Malden also appeared in TV ads for the American Express card, imploring viewers, "Don't leave home without it."  Remember those ads?
A memorial service is expected to be held within the next three to four weeks, Ross tells us.
This makes at least seven celebrity deaths within the last week or so... Ed McMahon, Farrah Fawcett, Michael Jackson, 50s actress Gale Storm, pitchman Billy Mays, comedian/impressionist Fred Travalena and now Karl Malden.
Celebs, check your pulse!  Make sure you have one.