Farrah Fawcett's funeral has ended at the Cathedral of Our Lady of the Angels in downtown Los Angeles.
We spotted a number of celebrities coming and going, including comedian Garry Shandling and actor Ernie Hudson of "Ghostbusters" fame.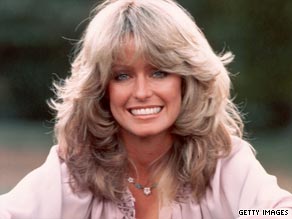 We did not see Redmond O'Neal, Farrah's son, who got a court order allowing him to leave jail to attend the service. He may have entered by a non-public route [see update under "New details on Farrah's funeral"].  The judge who let him out ordered that an LA sheriff's deputy accompany him at all times.
The most shocking story is who did NOT get in. Ryan O'Neal's son Griffin showed up but was banned from entering the cathedral, he told us.
He said his father did not want him inside because he (Griffin) "knows the truth" about what went down with Farrah's last days. He alleged that his father was exploiting Farrah and only stayed together with her because he was "looking for a payday."
Griffin O'Neal is Ryan's son by Joanna Moore, so he is not related to Farrah.
But Griffin said he loved Fawcett and had known her for over 30 years.
Guests at the funeral are now at a reception at the exclusive Jonathan Club in downtown LA. I guess that doesn't include Griffin O'Neal.