Adam's dad says he didn't sleep through the night as a baby and he screamed a lot.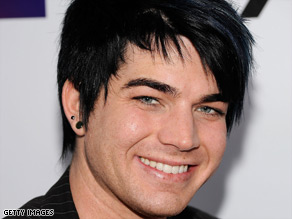 Shocking!
He chooses  "Mad World" as his favorite performance, and we have a do-over. I am a little afraid of that Matrix trench coat he is wearing, but it works with the guy-liner and the fog.
I liked the performance, though it didn't move me as much this time around. Probably because I've watched the original so much.
Way to suck up to Paula by telling her she looks beautiful tonight, Adam. Of course the judges have to break off into an argument as to whether he was more "Phantom of the Opera" or "Twilight" with the look.
Whatever.