Good to see all of the past contestants.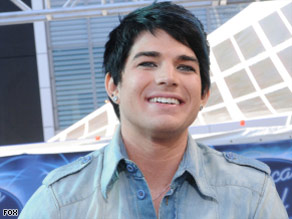 Adam takes a stab at "No Boundaries," which is co-written by Kara and I don't love the song. Maybe it's because Adam appears to be doing the Glam Rock version. When the first notes started I thought it might be a cross between a Disney theme and a Celine Dion song, but not so much.
Kara looks pleased with herself. Oh Lord, I was hoping we would make it through a finale without hearing the word "pitchy," but it's not to be thanks to Randy.
I think Paula managed to give a critique without even commenting on the song and that actual performance. That takes talent. Simon says the show has found "a worldwide star" in Adam.
I do have to give it to Lambert, he is cool as a cucumber up on that stage. So chill and completely at home.