Dang that Adam Lambert cleans up nice!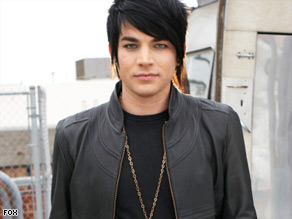 He is looking fine in his suit, which is perfect for the Sam Cooke classic "A Change Is Gonna Come," which Simon Fuller has selected for him to sing.
That's the good news. The bad news is I think he totally oversang that song.
He started off so well and then he couldn't resist going full throttle. The judges are going crazy and praising him to the high heavens, but I wanted him to do a less-is-more. I worry that the fans (excluding the Lambs) are going to get tired of the over-the-topness.
And holy crap on a cracker, what is Katie Holmes doing there with Suri?!?!? Isn't it past that child's bed time? Was Katie holding the baby's head like that to protect her eardrums from being "Lambasted?"