Jordin Sparks sings her new single, "Battlefield," and is accompanied by the song's writer, One Republic frontman Ryan Tedder.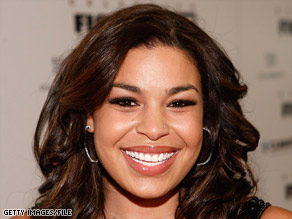 She is looking quite glam, but it took me a minute to figure out she was singing "You better go get your armor," because it sounded like she was saying, "You better go get your drama."
I love those songs that have built-in, misheard lyrics.
She looks about 10 feet tall in the mini-dress, and I am slightly freaked out by the scary look she throws into the camera at the end of the song, complete with dramatic lighting that on my screen made her look like she was almost glowing green.
Wicked!