Adam looks like he is mixing jailhouse rock with plain ol' rock with the striped shirt and leather.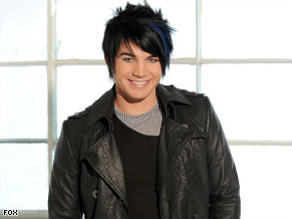 We learn that some chick in San Diego got naked and streaked on stage.
I love that he does the eyeliner of the weather forecaster at the local news station. She probably never looked so good and maybe makeup artist can be his fall-back plan if this "Idol" thing doesn't work out.
Check him out at the theater where he performed as a child. You could tell by the look on his face that speaking with the kids was touching him and the children looked like they were in heaven.
I want to gobble up the little cherub who asked in his baby voice, "How did you get so good at singing and dancing?" He was adorable!
The multigenerational Lambs are in full effect, and Adam's mommy sheds a tear.
Back to Ryan, who lets us know that Adam can also go sit down. Results already please!!!