"American Idol" is down to the final three, and it's an all-boys club now.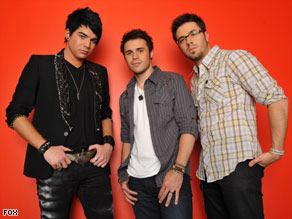 Adam Lambert, Kris Allen and Danny Gokey are vying for the title of "American Idol." Tuesday night, they double their chances to prove who is best.
Each contestant will perform two songs, one judges' choice and one their choice. The audience will also get to see what happened during the trio's hometown visits.
So who will bring it, and who will be heading back home for good? Tune in tonight and watch with CNN.com's Lisa Respers France, who will be blogging live during the show.
Post your comments below, or head over to iReport to share videos of your thoughts about the results show.
Your comment or video may appear on CNN!
- Lisa Respers France, CNN.com writer