Danny is back, and we are now in the stage where the contestants get to choose the song they perform.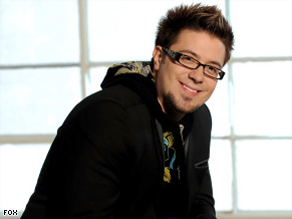 Danny has selected "You Are So Beautiful" by Joe Cocker after consulting his "mentors." Who is that, do you think?
Anyhoo, Danny on the stool accompanied by strings is a nice performance. His voice sounds great, and I thought it was one of his best showings to date.
Simon calls it a "vocal master class," and it seems like I remember him saying that about Fantasia and Elliott Yamin. I don't think Danny exactly had a "moment" like those two did when they earned the same compliment, but it definitely was lovely.