Seriously, how did they decide which judges got to pick which songs for which contestants?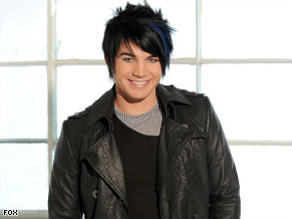 Simon selects "One" by U2 for Adam to sing, and we learn that Simon got a call from Bono clearing the song for use. Groovy.
Adam is in denim, and I find myself missing the leather. I am going to risk the wrath of the Lambs and say I don't think he did his best.
I thought it was going to be AMAZING, and it was just OK. He seemed like he fell back on the theatrics instead of just singing beautifully as we know he can.
But honestly, Adam so owns this show this season that they should rename it "Adam Idol." He advises the audience to rewind the performance and listen to how beautiful the U2 lyrics are, and I find myself reaching for the remote. I am his to command!!
And not to beat a dead horse, but honestly I want to do a Three Stooges smack on the judges down the line with all of the snark they are throwing at each other. When Kara launched into the faux-British accent to taunt Simon, I was waiting for the "Nah, nah, nah, nah, nah" to come next.