Boy did I miss No Doubt!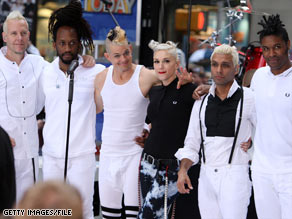 It's good to see Gwen Stefani and her wife-beater with the bra straps showing back with the fellas.
They perform "I'm Just a Girl," and Gwen's voice seems to have matured from the early years. Not sure why she felt compelled to do some push-ups, but I get that her body is still sick after two babies.
I think her vocals might have sounded better if she didn't feel the need to run all over the place. Still, it was fun in a comic-book kind of way.
Ryan is so cheeky with his "Hi babe" to Gwen. I'm excited that No Doubt is going on tour. I'm just a fan!