Ty Murray's next routine on "Dancing With the Stars" should be choreographed to "I'm a Survivor."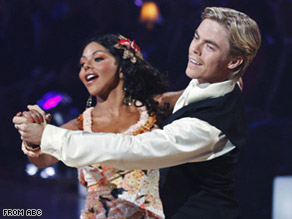 The rodeo star and his professional dancing partner Chelsie Hightower were in the bottom two on last night's results show and it seemed for sure he would be eliminated from the contest.
But fans again came to his rescue, and it was Lil' Kim who got the boot. She and her partner Derek Hough seemed stunned at the results, as did the audience.
Both celebrities had very vocal groups of supporters shouting their names and words of encouragement before the elimination and there were lots of boos from Lil' Kim's camp when her name was announced.
"Not a happy audience," co-host Samantha Harris said.
"There was a real shock in this room," co-host Tom Bergeron added.
Murray has been improving throughout the competition, but some of his moves have been called robotic (and were spoofed as such by a lip-glossed Kenny Mayne during the hilarious "Dance Center" segment.)
Tell us what you thought about the results.