The last time Kirstie Alley appeared on The Oprah Winfrey Show she was strutting her stuff in a bikini, showing off her weight loss.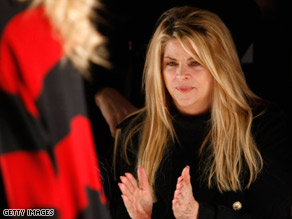 The actress and former Jenny Craig spokesperson appeared on The Oprah Winfrey Show Thursday, embarrassed and apologetic that she gained back the 75 pounds she lost. Alley admitted that without the folks from Jenny Craig to keep her in line, her motivation flew out the window. Video: Watch Alley on Oprah and reaction.
A spokesperson for Jenny Craig told Showbiz Tonight:
"Jenny Craig maintains a friendly relationship with Kirstie and we are proud of her accomplishments while she was on our program. Kirstie successfully lost 75 lbs and maintained that weight loss throughout our three year relationship, which came to an end in December 2007. We remain supportive of Kirstie, wish her nothing but the best and we would welcome her back at any time as a returning client."
Despite her mock jealousy of current Jenny Craig spokesperson Valerie Bertinelli, Alley says that Bertinelli inspires her to lose weight once again, as does First Lady Michelle Obama.
Well, I can tell you that the Showbiz Tonight staff was fired up over Kirstie Alley's public apology! Does the actress have anything to apologize for?
Tune in to Showbiz Tonight, 11p ET & PT on HLN.