Ohhhhh, I blame T-Pain for this foolishness.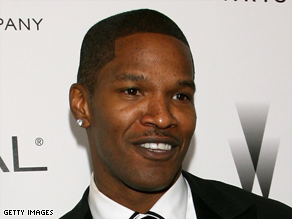 Jamie sings his new song "Blame It" and he is doing that computerized voice thingie that I hate.
T-Pain usually performs on the song with him and he's not there, but that stupid vocoder is.
Jamie can sing, the beat is hot and he can perform and that's what I want to hear. Not a computerized voice!
He's worked up a sweat and he really seems to be digging the show. He manages to sneak a promo for his new movie in along with some words of wisdom for Matt and Adam. (I still can't believe I have to type that!)