*** Warning: The following blog post contains "Dancing With the Stars" spoilers. If you'd rather not know anything, stop reading now. ***
Lawrence Taylor looked much happier on the golf course than twirling on the dance floor, so it seemed he was relieved when he was booted off "Dancing With the Stars" last night.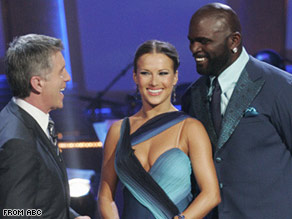 Host Tom Bergeron couldn't resist teasing the former football star about his wide smile after it was announced that Taylor and professional partner Edyta Sliwinska were leaving the show.
The couple got pretty good reviews for their waltz on Monday, despite a slight wardrobe malfunction that left Sliwinska tangled in her dress for a moment.
But Taylor seemed uncomfortable during rehearsals for the exuberant '60s-inspired group dance, which was reprised during the results show.
Last night's program had some surprises. CNN's Dr. Sanjay Gupta made an appearance in a taped segment about how great dancing can be as an exercise. Other experts talked about how the stars have lost pounds and inches since starting their grueling training regime, calling the show literally "survival of the fittest."
The results show also included a segment in which six professional dancers hoping to join the competition next season (including one named Mayo and another named Snow!) showed off their skills and TV presence. Viewers can vote on which pro is their favorite.
One odd moment during that segment: Dancer Genya Mazo somehow got smacked in the mouth during the dance and was visibly bleeding as the judges critiqued his and his partner's performance.