Part of the fun of "Dancing With the Stars" is watching the sparkly, colorful and sometimes outrageous costumes the celebrities and their professional partners wear on the show.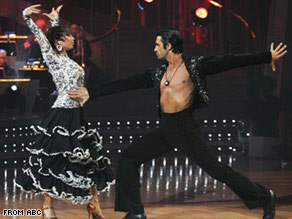 "Entertainment Weekly" recently put together a fun gallery titled "Crazy Costume Watch!" featuring some of the more memorable outfits from this season.
This is probably the only TV show where you can see a very masculine guy, like professional dancer Tony Dovolani, wear a sequined yellow-magenta shirt (which reminded me of two gelato flavors melting together) while dancing the rumba and not think twice of it.
But last night's show had a wardrobe malfunction of sorts, though the danger didn't come from too little fabric, but from too much.
Professional dancer Edyta Sliwinska - who is usually known for her "less is more" costumes - was actually pretty covered up with a coat and floor-length gown, but almost paid the price when she got tangled in part of her dress for a moment.
Meanwhile, Chuck Wicks, who dances with girlfriend Julianne Hough, had a particularly odd costume choice - dressed head to toe in red, including a flowing satin shirt that made him look like he was wearing pajamas.
What do you think of the outfits?